In 2010, the Department of Energy and SEAI prepared a Strategic Environmental Assessment (SEA) for their Offshore Renewable Energy Development Plan (OREDP). To comply with the SEA Directive, alternatives to the Plan were considered, including the option not to implement the plan. So were these alternatives assessed correctly ?
It is accepted that there will be environmental impacts :
The SEA has identified that, in some locations, there is potential for the development of offshore wind, wave and tidal energy to have likely significant adverse effects on the environment. This is mainly off the west coast of Ireland which is recognised as being of significant environment and seascape/landscape importance/value.
So considering that we are looking at significant and irreversible impacts on our coastal and ocean environment (and species), what are the impacts of not implementing the plan ?
Potential effects relating to not combating climate change such of continued effects on temperature, sea levels, precipitation, storminess, sea temperatures and these effects of these on species and habitat distribution and abundance, food chains etc.
This is misleading for two reasons. Firstly, whatever Ireland does to combat climate change will be reversed by many multiples by China and India who are building coal plants to meet their world record energy demands. If we even look closer to home, the Netherlands are
building three new coal plants
with total capacity equal to four Moneypoint coal power stations. Germany are also reliant on
new coal power stations :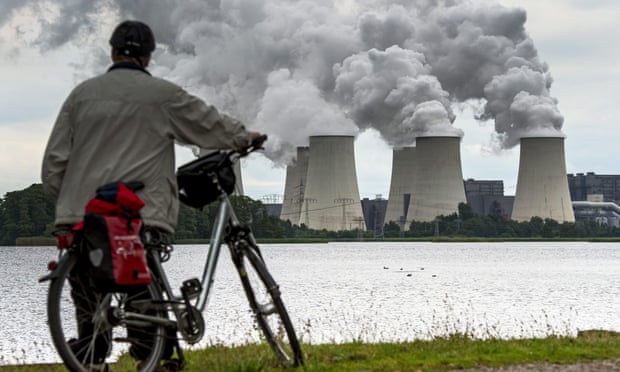 Water vapour rises from the cooling towers of a brown coal power station in Germany
Ireland does not have a separate climate to Netherlands, Germany or China so if man made climate change will result in an environmental catastrophe here in Ireland, the decisions which can prevent it will need to be taken outside Ireland.
Secondly, the effect of climate change on temperature is still uncertain. The raw records (as opposed to the modified ones) from Valentia Observatory show no remarkable increase in temperature :
http://irishenergyblog.blogspot.ie/2015/03/facts-or-fiction-is-green-movement.html
Indeed, understanding of the climate and the mechanisms that control it is still not properly understood by scientists. It was alleged by James Delingpole that the following extract from the draft IPCC report was altered for the Summary for Policy Makers :
None of the studies cited above has shown clear evidence that we can attribute the observed changes to the specific case of increases in greenhouse gases [sic]. No study to date has positively attributed all or part of the climate change observed to man made causes. Any claims of positive detection and attribution of significant climate change are likely to remain controversial until uncertainties in the total natural variability of the climate system are reduced. Will an anthropogenic climate [signal] be identified. It is not surprising that the best answer to the question is " We don't know".
This extract now seems to be deleted from the IPCC website since 2011 :
http://www.ipcc.ch/climate-changes-1995/ipcc-2nd-assessment/2nd-assessment-en.pdf.
So there is absolutely no certainty that the negative impacts on the environment in the "Not Implementing the Offshore Renewable Plan" will actually occur or indeed that Ireland can do anything to prevent it anyhow.
But it is a certain certainty that there will be significant impacts on the ocean and its habitats by installing renewable energy and offshore grid infrastructure in implementing this plan.
So the impact on the Irish environment from climate change is both uncertain and out of our hands in any case and should not be included in this assessment. But the environmental impact of going ahead with this plan is both certain and as a direct result of actions the Irish government take. Therefore, the latter needs to be given full consideration in the assessment.
Other impacts include volatility of prices of electricity from fossil fuels and the implications of these on business/enterprise in Ireland as well as the effects on domestic customers in terms of fuel poverty etc.
This should not be an issue as the reverse is actually true. Offshore energy will require a higher subsidy than onshore energy due to its higher capital costs. As onshore renewable energy is already higher than fossil fuel generated energy, offshore will then be even higher. There are also extra costs from further increasing the surplus of generation capacity and installing a new grid. So electricity bills will increase from implementing the plan,
not from not
implementing it.
Limitations relating to intermittency of supply from onshore wind. In comparison tidal energy is much more predictable and constant and offshore wind is generally less intermittent.
Once again, there is no actual evidence to back this up. The following graph comes from a presentation by Mark O'Malley of UCD Engineering Department :
We can see that there is a high correlation of wind and wave energy. In otherwords, when the wind is blowing, so too are the waves rolling. And vice versa. Offshore wind does tend to have higher capacity factors (i.e. output) but would still be classified as non dispatchable i.e. it can't be switched on at will unlike a conventional plant.
So the benefits of this enormous plan are still not clear to the ordinary citizen. The benefits to the country from not implementing it are also not made clear - maintenance of our pristine ocean environment and habitat, lower energy costs and therefore more jobs, less surplus capacity, more reliable electricity and improved tourism image (which also results in more jobs).
The SEA Directive states :
Member States shall ensure that environmental reports are of a sufficient quality to meet the requirements of this Directive
What do you think - is this assessment of "
sufficient quality"
and an examination of all alternatives when all options are open
or is it just rubber-stamping of a decision already made
?